MyStudio Wireless MIC DUO
Wireless dual channel microphone system
MyStudio Wireless MIC DUO is a compact, ultra-portable and versatile twin lavalier microphone and dual channel receiver set, incl. charging case.
Compatible with cameras, smartphones, tablets, computers and any device with an audio input, MyStudio Wireless Mic Duo delivers crystal clear high quality audio recordings to enhance your content and make the creative process easier than ever.
Powerful features
Dual channel system for two users simultaneously
Professional sound quality
High transmission stability
Flexible gain control
Universal compatibility
Charging case
Dual channel receiver
Lavalier MICs 2x
MIC windshields 2x
3.5mm TRS to TRRS audio cable


Use this cable to connect the receiver to a DSLR camera or other recording device with a 3.5mm audio input..
USB-C audio cable


Use this cable to connect the receiver to the USB-C port of your recording device (Smartphone, Laptop, Tablet etc.)

Dual charging cable – USB-C to USB


Charge 2 MICs or 1 MIC + receiver at the same time.
MyStudio Wireless MIC DUO has been engineered to deliver the prefect balance of convenience and quality. 2.4GHz digital transmission ensures connection stability so you can simply enjoy the creative process.
The mics and transmitter also come pre-paired right out of the box while the included windshields offer an additional layer of control in windy conditions. The 3 stage gain reduction built into each mic adds the final touch of control over your sound.
Range up to 150m distance
Of course the video quality of todays smartphones ensure it is now easier than ever to capture great quality video on the move. And now MyStudio Wireless MIC DUO adds the same quality and wireless convenience to your audio recordings.
With no cables to worry about and your microphone clipped to your clothing you can become truly mobile while speaking at normal levels up to 150 metres away from the camera (line of sight).
Vlogging, YouTubing, Content Creation, Interviews, Live Presentations, Live Streaming – whatever the task, if it needs your voice MyStudio Wireless MIC DUO delivers every time.
Use one mic to deliver your own presentation to camera or connect the second mic to interview your guests or create content together.
New generation of wireless audio
MyStudio Wireless MIC DUO cuts the cord and removes the limitations of cables. The lightweight and compact mics quickly and easily clip to your clothing and are so light you'll hardly notice they are there. Whether you're using one mic or two, the simplicity and convenience of wireless will have you set up and running in no time.
Compatible with audio recording devices
From smartphones and tablets to cameras and computers, there's never been so many ways to capture and record audio. MyStudio Wireless MIC DUO contains various options to get you connected including USB-C and 3.5mm TRS to TRRS while each mic also features a 3.5mm audio in should you wish to connect your own lapel mic to the microphone transmitter.
MyStudio Wireless MIC DUO
Wireless dual channel microphone system
Dual Channel Cystem for two users simultaneously
2.4 GHz Data Transmission
Professional Sound Quality
Omnidirectional Polar Pattern
Frequency Range 20Hz-20kHz
Flexible Gain Control
Range up to 150m
Built-in Rechargeable Battery:
Microphones 500mA
Charging Case 2200mAh
Sizes and Weight:
Microphones/Receiver: 4 x 4 x 1 cm, 23g
Charging Case: 9.5 x 7 x 4.8 cm, 200g (with MICS and receiver inside)
Operating time:
Microphones up to 10h
Charging case can perform three charging operations for microphones and receiver together.
Universal Compatibility with cameras, mobile devices, and computers with audio inputs
All components included:
Charging case, Dual-channel receiver, Lavalier microphones 2x, Windshields 2x, 3.5mm jack cable, USB cable 2x, User guide
Transmitting frequencies: 2404MHz – 2480MHz
Maximum transmit power: 8.21 dBm
The world is your audience: MyStudio Podcast is the ultimate kit for audio content creation – a complete set of equipment for podcasts, tutorials, music recording, streaming, etc.
The pack contains all of the components required for professional audio recording – right down to full size stereo headphones.
Stereo Headphones
Condenser Microphone
Microphone Mount
Adjustable Boom Arm
Pop Filter
Mic Shock Mount
Foam mic shield
Table Clamp
USB Cable (USB-A to USB-B audio cable)
The design of the condenser microphone is well known for it's ability to accurately capture the more delicate and higher frequencies in a recording. These characteristics make it especially suitable for speech and vocal recordings where the fine details are all important.
This polar pattern is the norm for streaming and podcasting and works particularly well in applications where the microphone needs to be focussed on a specific sound source.
This design ensures that priority is given to the sound entering the front of the mic while reducing the sensitivity to sounds from the sides or rear of the mic capsule.
A common problem in vocal recordings are the some of the harsher sounds that are naturally produced by the human voice.
This sibilance can Olten be softened by using the pop filter to help reduce the hiss or pops commonly associated with some words or sounds.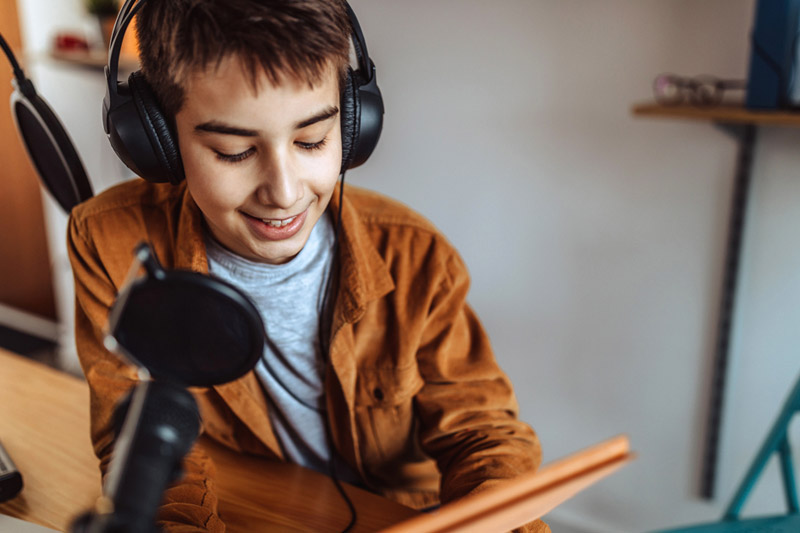 MyStudio - Studio Kits for Creators
MyStudio Podcast
Complete set of equipment for streamings, podcast, audio recording etc.
Stereo Headphones
40mm Dynamic Type
Frequency Range 20Hz-20kHz
Condenser Microphone (Plug and Play)
Polar Pattern Cardioid
High Sensitivity
Noise Cancellation
Gain Control
Microphone Mount
Adjustable Boom Arm
Max. Load Capacity approx. 1.5 kg
Pop Filter
With 360° Gooseneck Clip
Mic Shock Mount
Foam mic shield
Table Clamp
USB Cable
USB-A to USB-B audio cable
What is MyStudio Green Screen?
MyStudio is a complete home video studio in a box.
With MyStudio, fun and creative videos are a few simple steps away.
Simply film yourself in front of the green screen and add your favourite background from one the various apps available. You are also free to use any picture or film from your private gallery to function as your background.
You will want to make more unique videos to share with family and friends. All you need is a smartphone and MyStudio.
Jump into a new background:
Have you ever wanted to broadcast yourself from the Big Apple, dance on the edge of a Volcano or even "beam" yourself to the moon? Anything goes!
There are just no limits to your fantasy and the backgrounds you can use to put yourself in any scenery or even on stage with your favourite celebrity. With MyStudio YOU are the star.
Become a Pro
Share your skills with your community
Present yourself in the "world" of your choice and create professional video tutorials, blog posts, game support, guides, knowledgeable feeds and comments … Or simply offer your community a good deal of lifestyle and entertainment as an influencer.
With MyStudio you are a Pro!
The MyStudio Green Screen measures 2×3 metres and comes with two clamps and suspension rings.
Fasten the fabric in a suitable, bright place and make sure it does not crease.
Ensure the tripod is placed in a position which allows the green screen to completely fill the background of the video recording.
100% Polyester (Terylene)
For private use only. Not for commercial use.
Tripod with smartphone holder
Extendable up to 120 cm height
Loosen the thumbscrew and pull down the three tripod legs completely so it stands firm and stable.
With the help of the screws you can adjust the height of the tripod exactly as you need it for your shot.
Make sure that the MyStudio Green Screen fills the entire image in the camera.
Mounting the smartphone:
Mount the smartphone holder on the tripod shaft using the clamp mount. It is compatible with smartphones of up to 3.7"/9cm in width. Take care to ensure the smartphone is securely fixed in place. Ensure the smartphone is not at risk of falling from the mount.
Due to the stability of the tripod, the feet are sometimes difficult to pull apart. There is a risk that you may get your fingers caught. So always complete this step with adult supervision.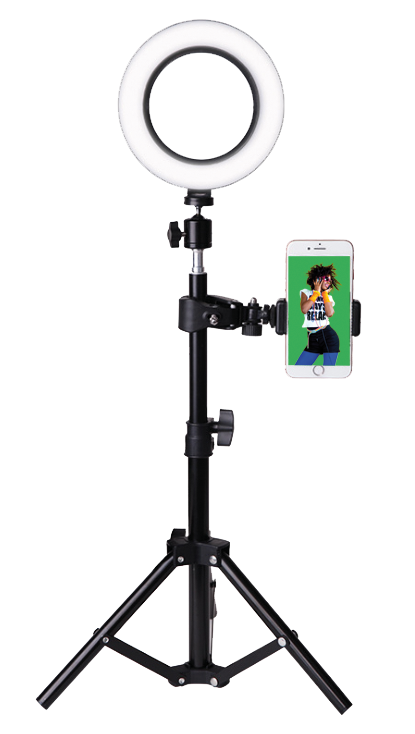 MyStudio - Studio Kits for Creators
Rotatable
Different brightness levels
Different colour temperatures (2900K-5500K)
8 Watt
1440-1800LM (lumens)
Screw the LED ring light onto the supplied ball head and attach it to the tripod.
The ring light is supplied with power using the supplied USB cable. You can connect the USB plug to the USB port of your computer or use a normal USB power supply or power bank.
The light is switched on and off using the switch on the cable. You can also use it to adjust the light colour temperature (warm white, universal white or daylight white) and brightness in ten steps.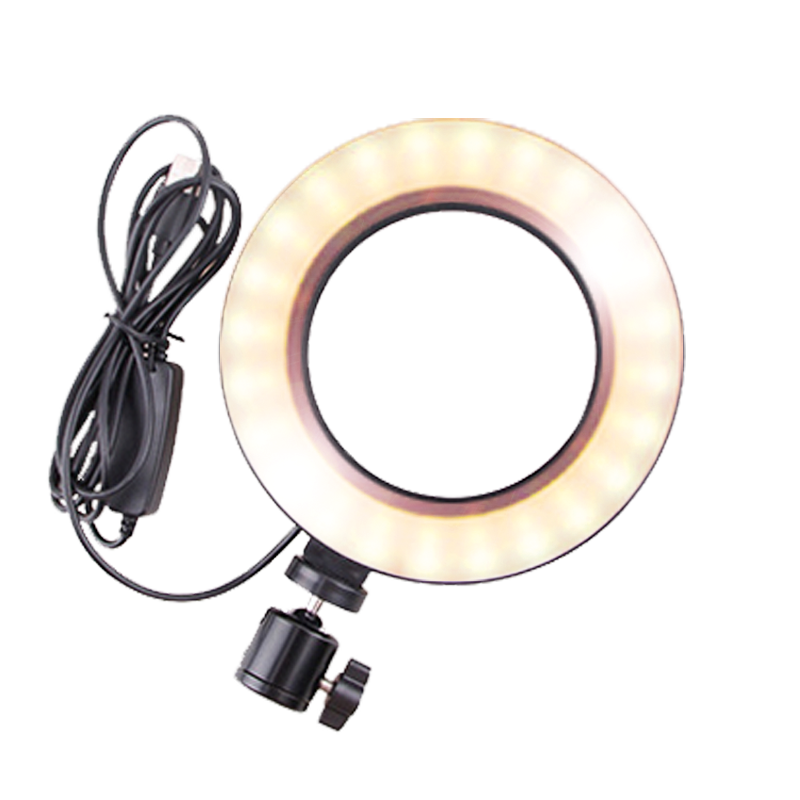 MyStudio - Studio Kits for Creators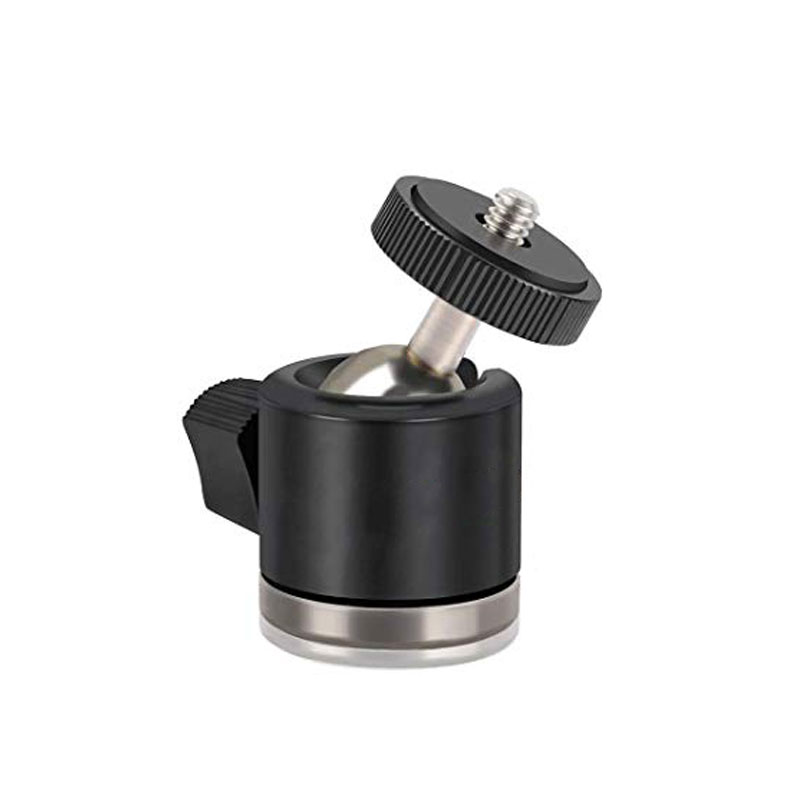 MyStudio - Studio Kits for Creators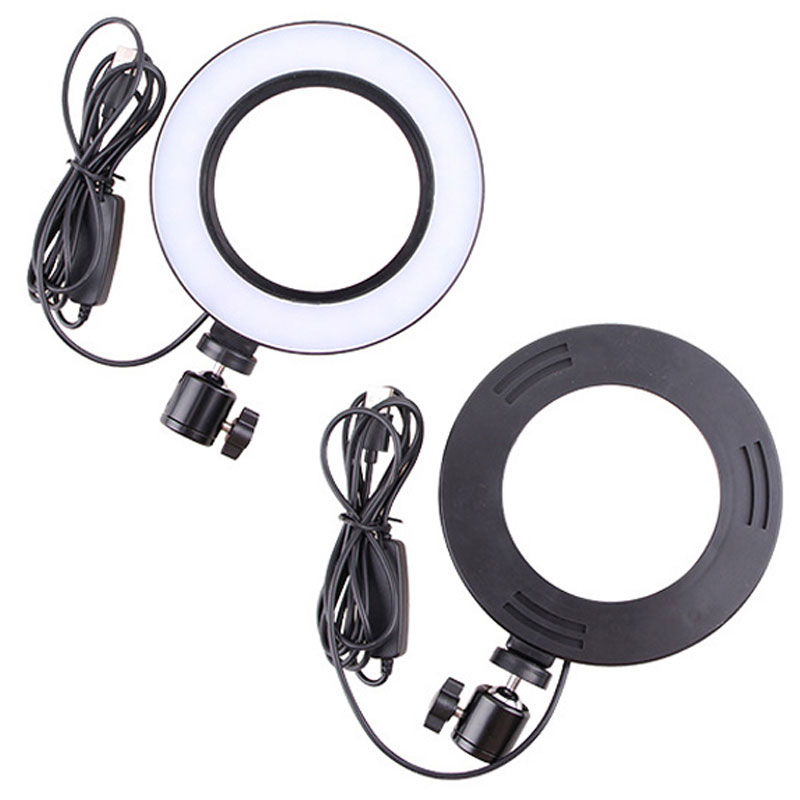 MyStudio - Studio Kits for Creators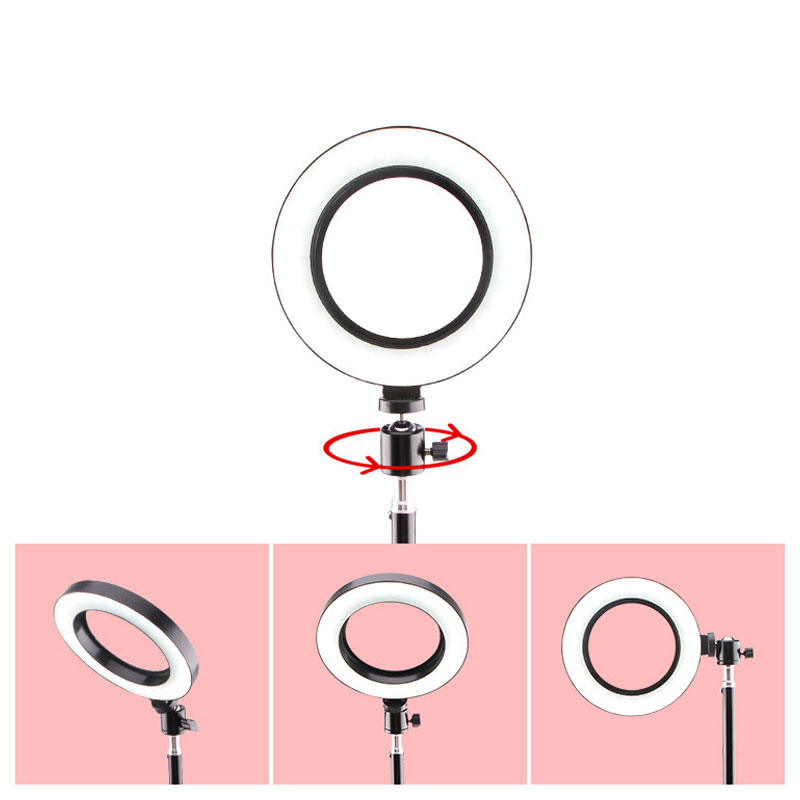 MyStudio - Studio Kits for Creators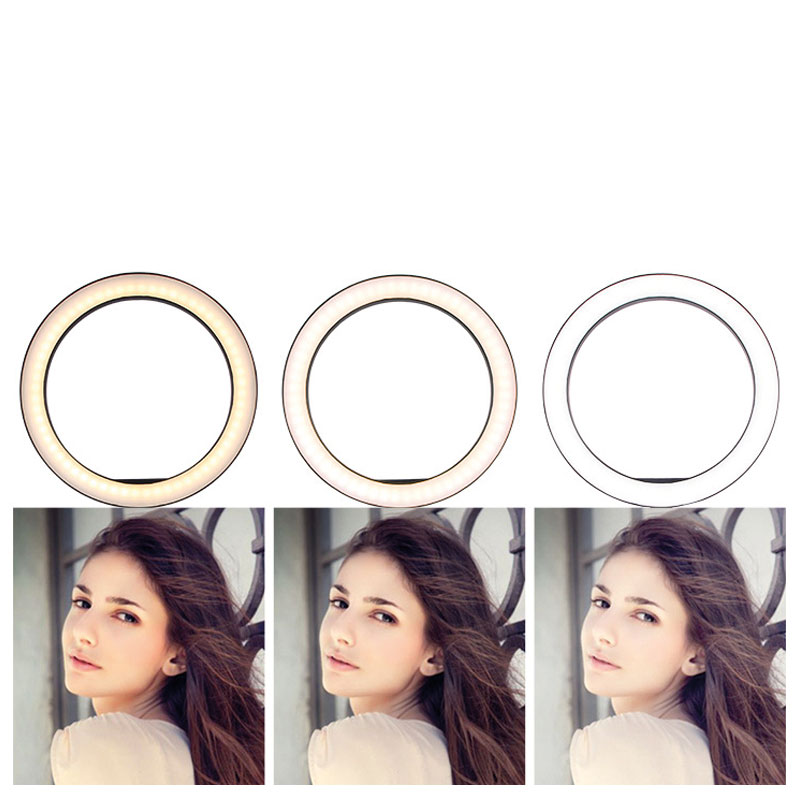 MyStudio - Studio Kits for Creators
Microphone
With additional extension cable
The microphone is a clip-on microphone.
Connect the microphone to your phone using the adapters and extension cable provided. You can then clip the microphone discretely to your sweater or tee shirt.
MyStudio - Studio Kits for Creators
In addition to the green screen, tripod, video light and microphone, MyStudio comes with handy accessories to help you record your videos:
Microphone extension cable
USB Type-C adapter for smartphones
USB Lightning adapter for iPhones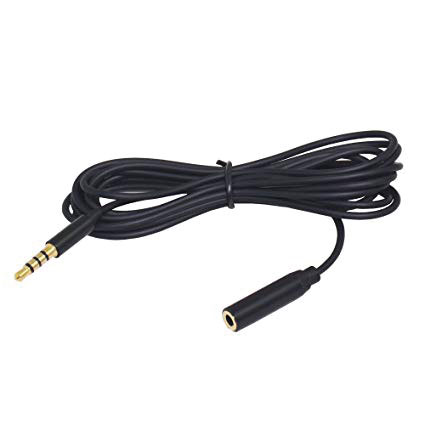 MyStudio - Studio Kits for Creators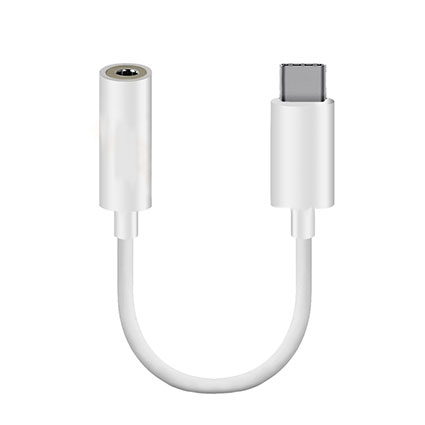 MyStudio - Studio Kits for Creators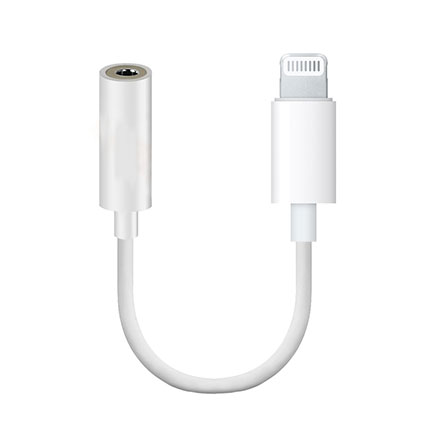 MyStudio - Studio Kits for Creators
Green Screen
Size: 2x3m
With 2x clamps and clips
Extendable Tripod with smartphone holder
Height: Up to 120cm
6″/15.2cm Ring light
With adjustable colour temperature
(USB cable)
Clip-on Microphone
With extension cable
3.5mm adapter for USB Type-C and 3.5mm lightning cable for iPhone
There is a wide range of apps for both Android smartphones and iPhones that allow you to replace the green colour of the MyStudio Green screen in your video with a different background. Here's just a sample selection: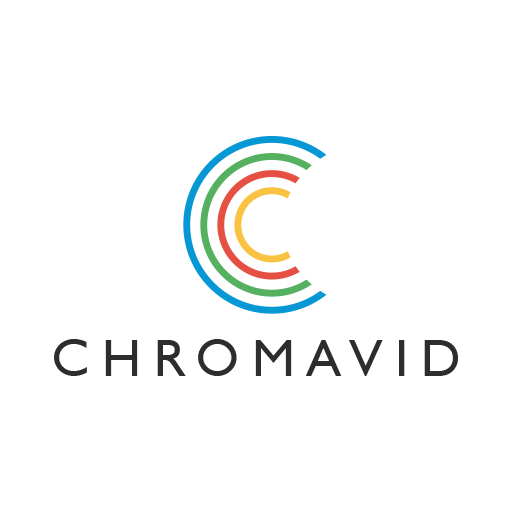 CHROMAVID
Android / iOS
MyStudio - Studio Kits for Creators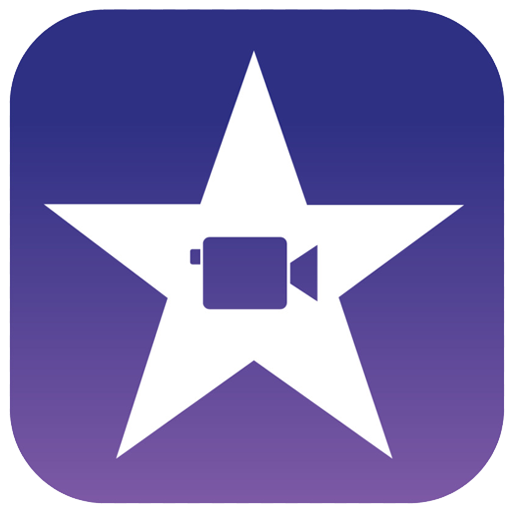 iMOVIE
iOS
MyStudio - Studio Kits for Creators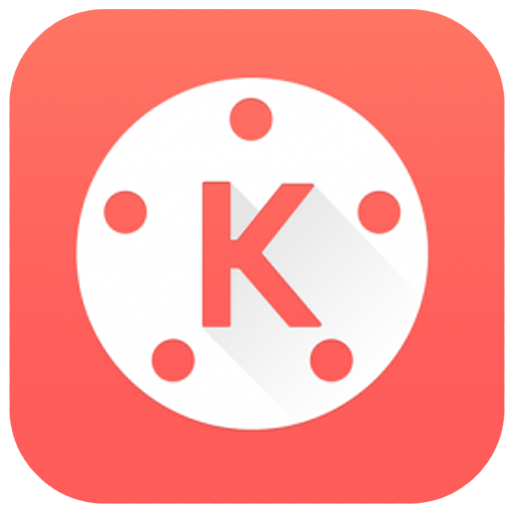 KINEMASTER
Android / iOS
MyStudio - Studio Kits for Creators
Using CHROMAVID as an example, we show you how it works:
1. Attach your smartphone to the tripod and point the camera at the MyStudio Green Screen.
2. Turn on CHROMAVID – The app will immediately remove the green background.
3. Select a background from the app or your library and confirm the selection.
Done!
Now you're ready to record your video with your selected background.
Please note that most apps have an age limit. In addition, apps can enable "in-app purchases."